Panasonic Technical Center "hotspot"
Panasonic Technical Center "hotspot"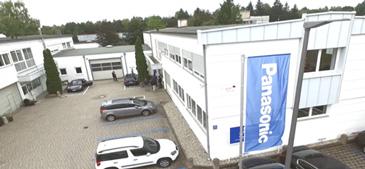 Under the slogan "Connect to the Factory of Tomorrow," Panasonic Factory Solutions Europe has opened a new technical center named "hotspot" near Panasonic's offices near Munich, Germany.
---
Photo: Panasonic Technical Center (Germany)
---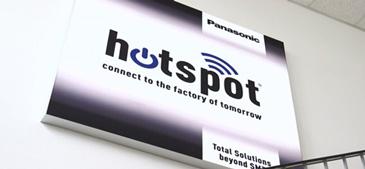 The technical center was not established solely to exhibit machines and for training.
It is positioned as a "hotspot," meaning a central location for Panasonic customers and partners, by providing a conduit to all Panasonic factory automation services and connecting all services to innovative solutions.
---

Photo: History of Panasonic's Factory Solutions Business Division displayed on the wall
The large conference room, which has a capacity of 22 people and is equipped with all the necessary media equipment, exhibits the history of Panasonic's factory automation (FA) development, which began in the 1960s and continues to this day. In mid-1979, Panasonic established its FA Division in Europe for customers in Germany and subsequently expanded sales and services throughout Europe, Turkey, and Africa.
---

Photos (from left to right): Smart factory presentation area, minimal component mounting analysis (microscope), software + remote control solutions area, production line with third-party equipment, material storage solutions (tower)
Here you can get a taste of Panasonic's smart factory solutions and fully see their flexibility and capabilities.
Demo Hall: A Panasonic SMT device is installed on the production line, connected using third-party equipment such as SPI and AOI, and connecting conveyors and stockers. The PanaCIM® software takes full control of the production line.
---
Photos (from left to right): Maintenance tool area, odd-form component mounting solutions area, software + remote operation solutions area
This technical center not only provides customers and stakeholders with the opportunity to see Panasonic's latest equipment and Panasonic software running in a production environment, but also enables customers and stakeholders to experience the factory of the future firsthand by allowing them to participate in training sessions and speak directly with Panasonic's expert team.
---

Photos (from left to right): Break area, and meet & greet area
The meet & greet area can be used as a comfortable communication space where customers and Panasonic employees can talk freely, and enjoy coffee and snacks after demonstrations in the Demo Hall or training on equipment and software.
| FA | | | | | | | |
| --- | --- | --- | --- | --- | --- | --- | --- |
| Rooms | Demo Hall | Machine training room | Software training room | Conference room | Office | Meet & greet room | Break area |
Location
Panasonic Technical Center "Hotspot", Rudolf-Diesel-Straße 26, 85521 Hohenbrunn, Germany
Contact details
Panasonic Connect Europe GmbH
Rudolf-Diesel-Straße 26, 85521 Hohenbrunn, Germany
Phone: +49 (0) 89 660 79523
Email: PFSE.info@eu.panasonic.com