Do you face any of these problems?
Need to eliminate damage and chipping
Need to achieve high productivity by batch treatment with plasma
Need to suppress the occurrence of dust/particle that causes lower yields
Need to design chip shapes freely
Plasma dicer realizes high productivity by damage-less and clean dicing.
1. No damage and no chipping

Damage-free, chip-free and improved die strength of chip
Thin wafer (≦50 μm) can be separated into pieces with low damage
Capability that helps to separate into pieces with low device damage
2. High productivity and low CoO

Batch process treatment and high Si processing speed
Narrow dicing widths (≦5 µm) and narrow kerf margins achieved by chipping or cracking allowing for more chips per wafer
3. Dust-free and particle-less

Chemical reaction processing by plasma etching, a clean process free from mechanical damages that generates mechanical dust, vibration and water pressure
Capability to improve yield
Potential to reduce the number of inspections and inspection points
4. Various chip shape and layout support

No restrictions of chip shapes and layouts other than a grid
Target machinery and target packages
Model

APX300-DM

Exterior
Realizes damage free, takes more chips and improves productivity with the plasma dicing technology
Features

Dicing of whole wafer's surface at one time without causing damage, achieving high chip strength
Panasonic's original process enables various kinds of semiconductor wafer dicing

Target wafer
Plasma dicing of plastic materials like DAF
---
---
Plasma dicing of laminated wafer such as insulated film and WoW structure
---
---
Various other case studies of processing
---
---
---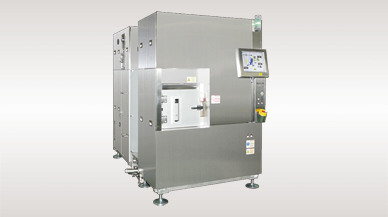 Plasma Dicer
APX300-DM
Reduces damages, takes more chips and increases productivity with the next generation plasma dicing technology.