NTA Precision Axle Corporation
Welding Power Source Separated Robot GIII (Rotary TIG Filler Specification)
Automated manual "multi layer welding" performed by outsourcing company. NTA successfully recovered investment costs in a year and a half with this automated solution.
Introduction: 2020 Location: Carroll Stream, Illinois, USA
---
Issue
NTA was outsourcing welding "Blade" used for deburring work. However outsouring cost was expensive and lead time was long too.
Solution
By introducing a cell-type welding robot system and making it in-house, the lead time was reduced to a few days and the investment cost was recovered in a year and a half.
"Since the cell type robot system was easy to install and did not require us to think about the layout, the hurdle of introducing the welding robot for the first time was greatly lowered."
---
Background
To improve outsourcing cost, lead time, man-hour, and quality by in-house production
We are a company in charge of the front-end process of hub bearings, which connect automobile chassis and wheels, and we forge, lathe, and heat treat the finished products and deliver them to our customers. We had outsourced the regeneration of the "Blade" to remove the burrs from the casting to an outside supplier, but since the outside supplier used hand welding, the cost were high, delivery time were long, and the quality are not stable. We need to correct after receiving the product.
In addition, there were some problems, so we had to make improvements including in-house production to achieve stable production. We consulted with various suppliers, but they were not willing to do it with us. Under such circumstances, Panasonic said, "Let's do it with us." (Mr. Shinji Yamamoto, General Manager)
Reason for introduction
To reduce outsourcing cost, shorten lead time, and improve quality issue
At the original outsourcer, skilled welders were doing multi layer welding, but it took more than 30 minutes. In addition, the quality was not stable, and sometimes uneven. And the outsourcing cost needed to be cut. We worked on the introduction of welding robots to improve all the problems. (Mr. Tomoya Ito, Technical Coordinator)
To achieve highly efficient production by controlling schedules
Automotive industry has always been an up and down industry, so sometimes we will get real high peaks .
In such cases, it is necessary to achieve highly efficient production by controlling the materials and the production process, but the repair of "Blade" has been outsourced and difficult to manage. Because communication with outsourcers was taking time, we introduced welding robots that can control schedules in our company. (Andrew Murrell, Assistant Manager)
Post-introduction effects
The investment effect exceeded the initial expectation, and the investment was recovered in 1 year and a half!
At first, we had no knowledge of welding robots. After doing various simulations with Panasonic, we realized that it was not a high investment in total, and we decided immediately. The cost to pay outside was decreased, the defect rate was decreased, the inventory amount was decreased, and the delivery time was also decreased. Originally, we planned to recover our investment cost in three years, but the actual effect exceeded our expectations. In our calculation, it actually recovered our investment cost in about a year and a half. The investment effect was so great that we immediately started considering a second one, and now we are using two robots to fill the labor shortage. (Mr. Shinji Yamamoto, General Manager)
Reduced lead time to one third. Workers work has improved efficiently
It was shocking not only to be able to shorten the long lead time but also realize uniform welding. In addition, once the teaching program was created, it became a simple task to set up and just press the button. Now, the workers can do other tasks, which greatly improved the work efficiency. And we also could reduce the number of man-hours in after process, which was very helpful. We appreciate Panasonic's prompt response to our technical inquiries and their generous support. (Mr. Tomoya Ito, Technical Coordinator)
Significantly reduced the amount of scrap to be discarded
Now we have the robots, we're in control. So being in control of that and then keeping always a good rotation of good tools out on the floor helped us reduce scrap tremendously. Panasoni robot is pretty easy to adopt, and I think just the teaching was pretty easy to understand. So our employees are happy. (Andrew Murrell, Assistant Manager)
---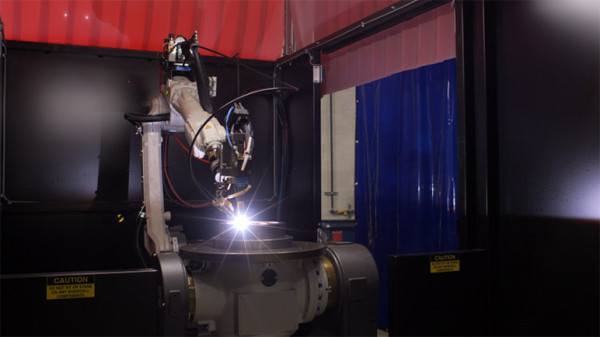 NTA is introducing two cell type (box type) robot systems. Work fixed by jig is rotated by Panasonic positioner to weld uniformly.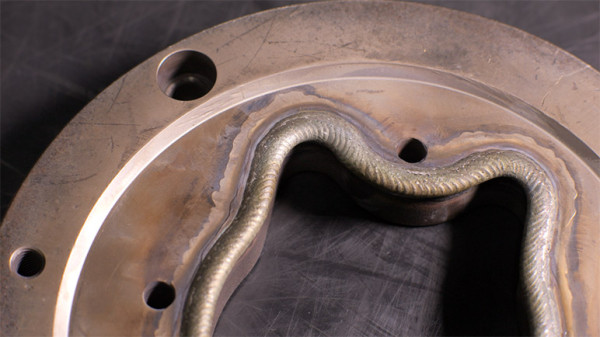 "Blade" workpiece welded by TIG robot.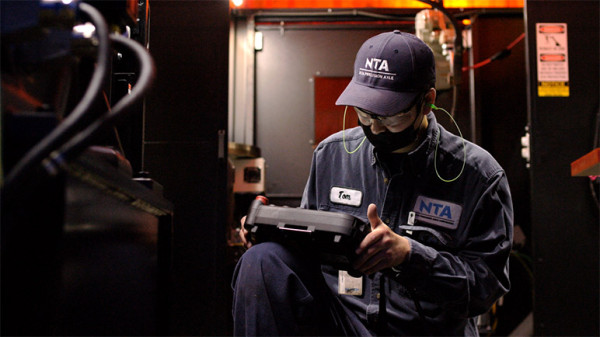 Teaching to move the welding robot. If there is a problem or trouble, the local service person respond immediately.
---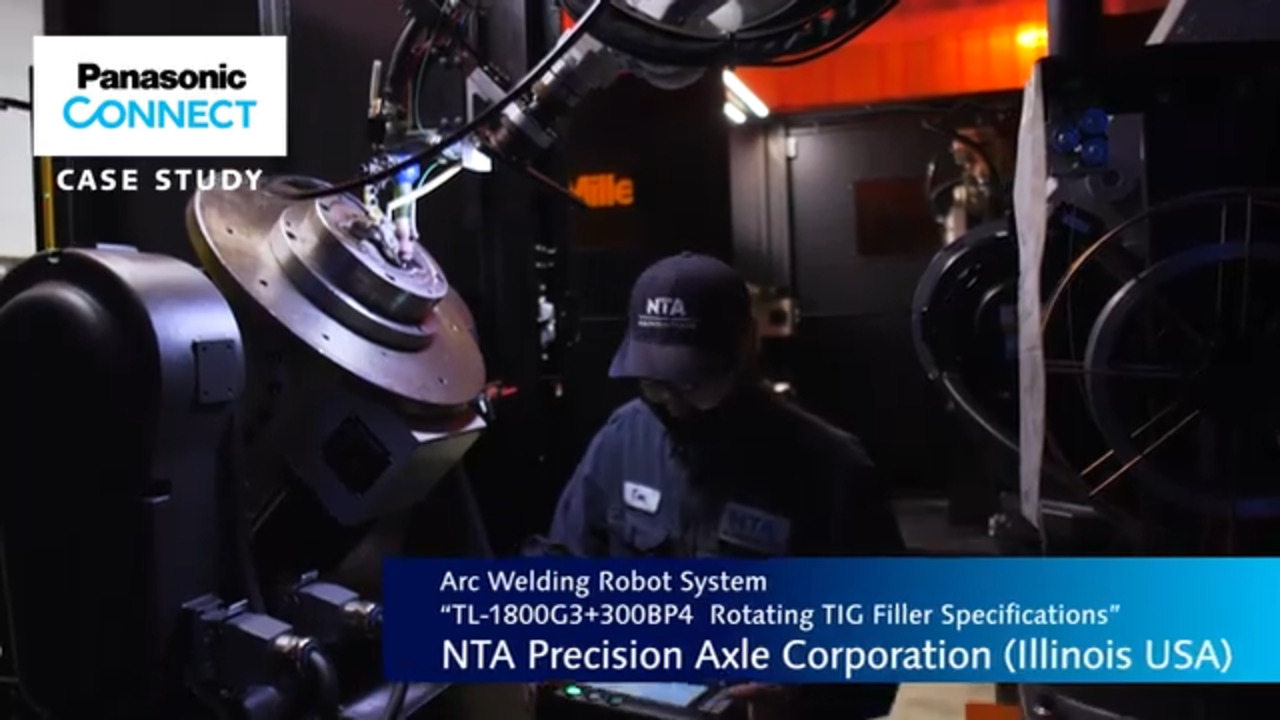 Delivery equipment
Welding robot system x 2 systems
TL-1800G3+300BP4 Rotation TIG Filler Specifications
TM-1400WG3 TAWERS
---
---
Human resource development with "Automation" and "Robotization" skills
At present, we simply move the robot according to the shape of the work, but we would like to consider pin-pointing the multi layer welding and processing as we have introduced the welding robot. We aim to improve the skills of engineers who create an environment where anyone can work without relying on skills.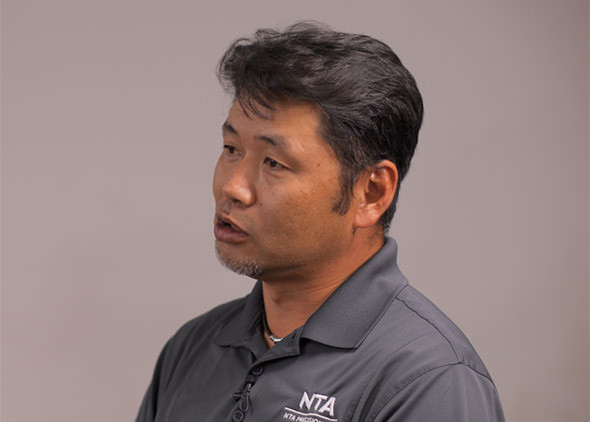 ---
Reliable after service, solved with just a phone call
I had some concerns about the introduction of a welding robot for the first time, but if there was anything I didn't understand, such as complicated details, I called a service person at Panasonic and they solved it immediately. It helps me a lot because he always respond to me quickly at any time.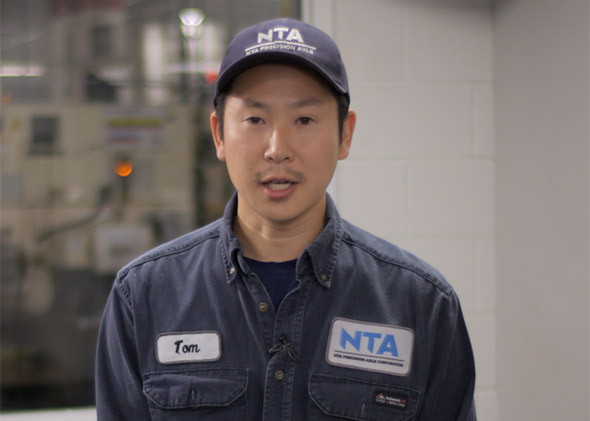 ---
Build good relationships with vendors and respond to market voices
It's good to have good relationships with the vendors, and I believe we do here at NTA. We have multiple vendors that we have built good relationships, and had a long history with them. And we would like to build a good relationship with Panasonic in the future to meet the demands of the market.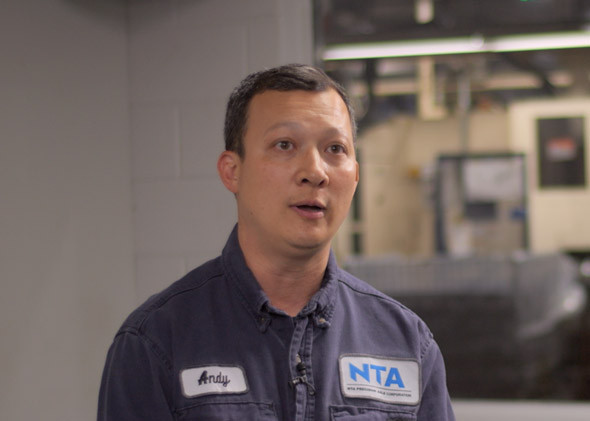 ---
Customer introduction
NTA Precision Axle Corporation is a joint venture between NTN Corporation, TAKAO KOGYO Co., Ltd. and ASAHI FORGE CORPORATION, and is responsible for the pre-manufacturing process of hub bearings.
By further reducing the size and weight of hub bearings through advanced manufacturing technology, they are supporting the improvement of fuel efficiency and comfortable ride of our vehicles.
---
Click here for an estimation about Welding Power Source Separated Robot GIII (Rotary TIG Filler Specification).
---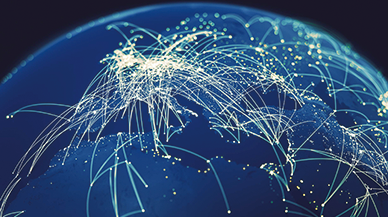 Global network
Panasonic has established a system to support customers all over the world. Customers expanding production from Japan to overseas factories can also use our equipment with peace of mind.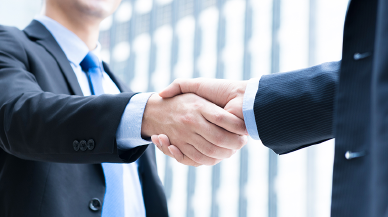 Website for Panasonic Shoyokai
Website dedicated page for members of Panasonic Shoyokai. You can download the application form to join the membership website P-Web.