Mounting MES System PanaCIM-EE Gen2
Do you face any of these problems?
The entire mounting floor is not centrally managed, and quality, cost and floor productivity have not been improved
The work of the entire mounting floor cannot be visualized, and is not automated and standardized
Panasonic's PanaCIM-EE Gen2 is a mounting MES software that centrally manages the entire mounting floor. It supports improvement in QCD of each task related to mounting.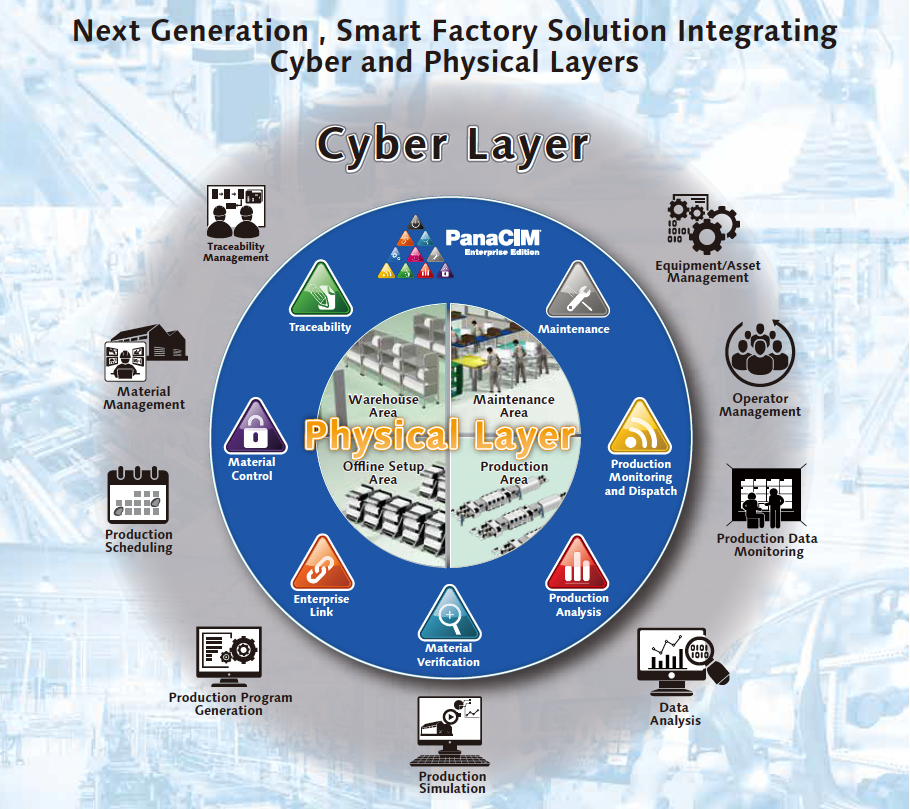 Mounting MES software for centralized management of the entire mounting floor
Supporting the improvement of QCD in each task related to mounting
---

Material Verification
Enables the verification of components at equipment level through writing component data on feeder memory ,
This also controls the start of production and prevents component misplacement.
External interface to a customer's in-house systems available.
This manages the data of components consumed on production floor. Using Reel ID(unique ID on each component) , it tracks the exact number of remaining components and helps minimize inventory. Reservation and Allocation assures availability and MSD(moisture sensitive device) control is also available with life time management.

Traceability
This functionality provides easy search and filter capability for bad components and lots that would potentially cause recalls.
Leveraging Material Control functionality , more detailed PCB identification is also available.

Production Monitoring / Dispatch
The real-time monitoring and visualization of equipment performance status works on PC monitors and also sends warnings and alerts to wireless handy terminals. It encourages operators to cope with component shortages and errors and reduces production downtime. Dispatch functionality(optional) navigates and optimizes the operator's travel route and component replenishment sequence to reduce component shortages that cause short time downtime and to save replenishment labor.

Production Analysis
By comparing each production line status, it identifies production performance trends and detects the bottleneck and root cause of the underperformance. It also increases production quality by obtaining inspection results from inspection equipment and identifying specific mounting conditions on bad components.
This promotes periodic maintenance of equipment and prevents production stop due to equipment errors.
It also prevents bad equipment from being used in production and contributes to utilization increase when bad feeders are detected at o ine setup.

Enterprise Link
The data export such as traceability and material verification to customer systems can be done through this functionality.
Various interfaces such as file , socket and database are supported and can provide flexible integration with customer systems.
Major functions: Features of PanaCIM material management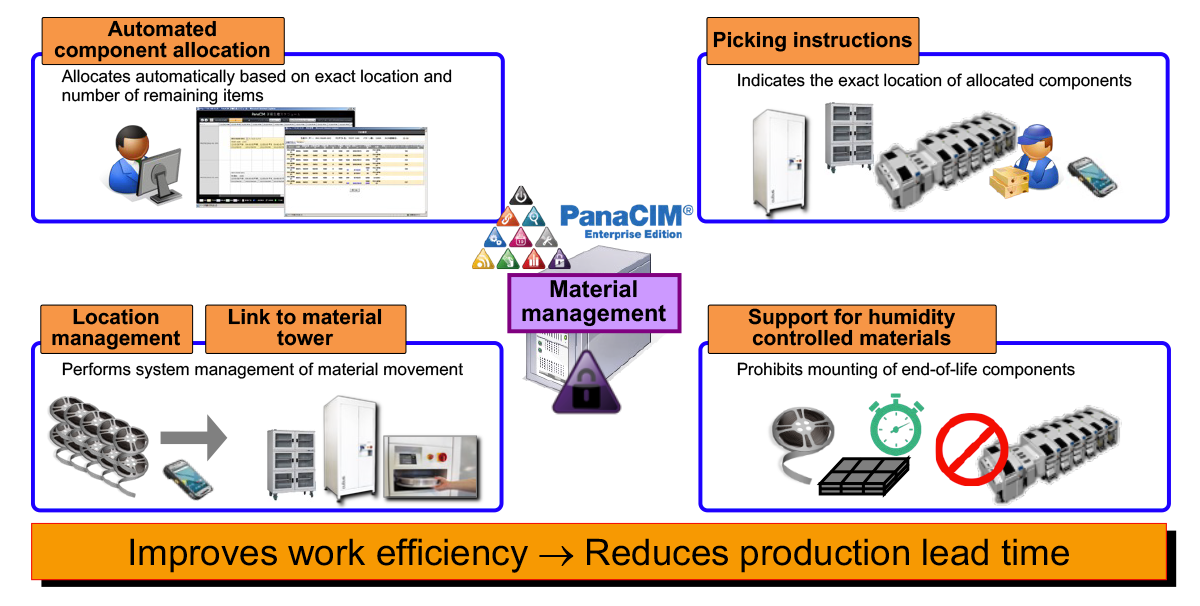 The evolution of 5G, IoT, and other technologies that support society has recently caused significant changes in the market, including increases in the variety of components mounted on PCBs and cases where more expensive materials are being mounted.
Factories must conduct many operations in a quick and reliable manner, including material storage, selection of appropriate materials for PCBs to be manufactured, and subtractive processing during mounting.
PanaCIM material management system automatically manages those operations, contributing to reducing customers' production lead time.
Major functions: Features of PanaCIM maintenance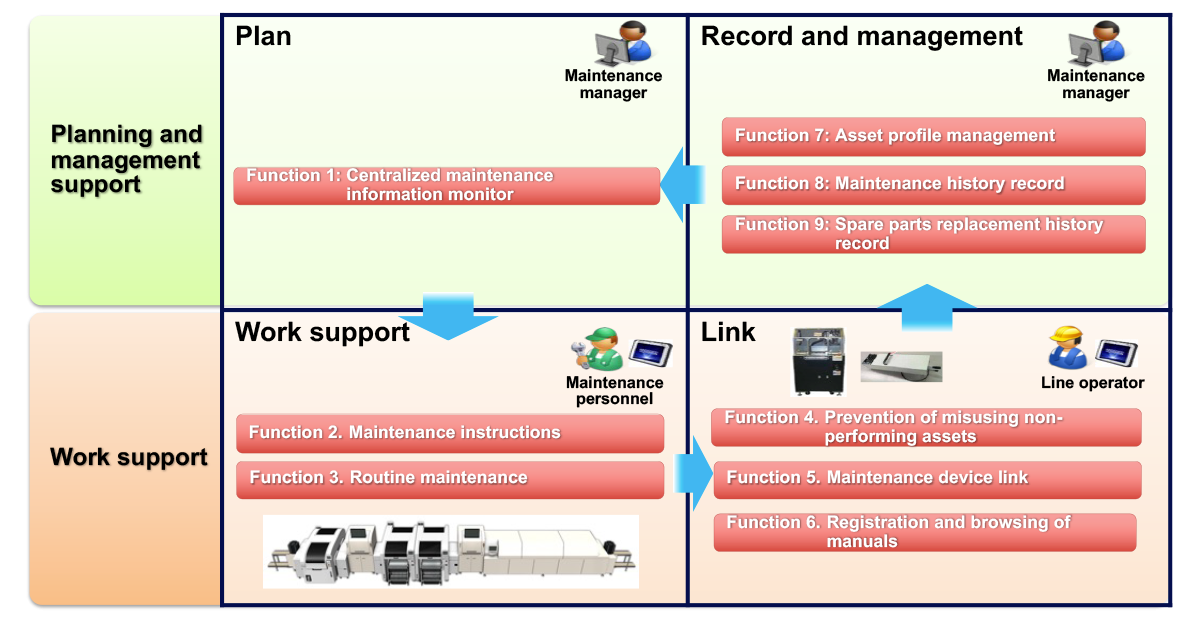 PanaCIM MMS (maintenance management system), known as PanaCIM maintenance, centrally manages feeders, nozzles, and other items used in SMD component mounting machines and works with the mounting machines to prevent the use of items that have yet to be calibrated or cleaned in the production process.
This system centrally manages items for production (assets) and their maintenance history to eliminate items that must not be used for production, supporting the manufacturing of conforming products in mounting lines and the fixing process.
Option: Component supply navigator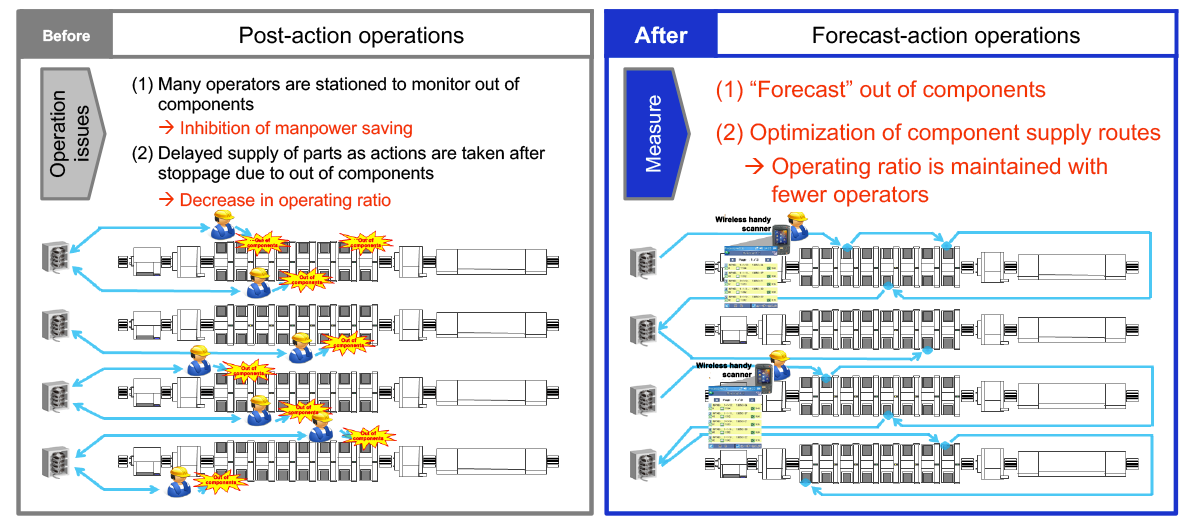 The component supply navigator predicts when components will run out and provides optimum supply routes to achieve manpower saving and availability improvement.
Conventional production sites have adopted "corrective" operations, which required many operators for monitoring lines to supply components after they run out, resulting in a production stoppage due to delays in supply. Our component supply navigator allows "predictive" operations by predicting when components will run out and optimizing component supply routes, maintaining the availability with fewer operators.