Strengths of Panasonic measuring systems
UA3P world-leading 3-D profilometer is applicable to a wide variety fields.
Ultrahigh accuracy measurement
(reproducibility of single nanometers achieved)
Absolute form assessment by contact measurement
(rotationally symmetric aspherical surfaces and free-form surfaces)
Flexible NC paths ready for complex shapes
Various analyses from measurement data
(e.g. Zernike analysis)
Decentering measurement with reference to surfaces/outlines
(e.g. aspherical/free-form wafer lenses)
Surface roughness measurement even for objects with a complex shape
Measurement assessment available even without a design formula
Assessment using CAD data
Automatic measurement for leveling work and reducing manpower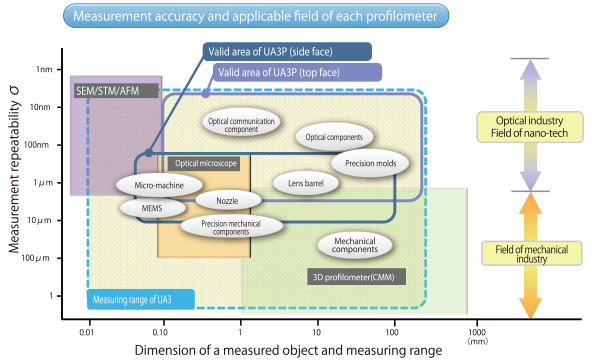 High-accuracy measurement technologies that support manufacturing
---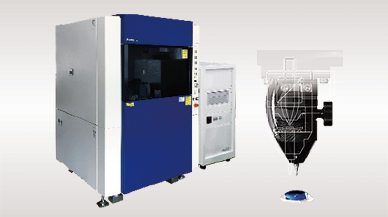 Ultrahigh Accurate 3-D Profilometer
Measures aspheric lenses, free-form curved mirrors, and their molds at a maximum accuracy of 0.01 um. Easy to operate and capable of speedy feedback to processing.
Features of Panasonic measuring systems
Coordinate measurement technology
The profilometer's coordinate system consists of three reference flat surfaces (mirrors) independent of the stages. The length of each of the X, Y, and Z axes is measured with a resolution of 0.3 nm with the laser interference method using a frequency-stabilized He-Ne laser as the light source. This method suppresses the influence of squareness and straightness of the stages to achieve a high-accuracy measurement.
Measurement error due to the coordinate axes: 0.05 µm max. (up to 100 mm), 0.3 µm max. (up to 500 mm)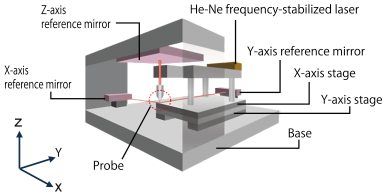 ---
Measuring probe
High-accuracy scanning and measurement of a measured object is feasible due to the use of ultra-low measuring forces.
The stylus is held by the micro-air slider, and the focus laser detects the movement of the stylus. The position of the AFP is tracked in line with the shape of the measured object to keep the measuring force constant.
Measuring force: 0.15 to 0.30 mN (15 to 30 mgf)
* UA3P-3100/4000: 0.05 to 0.30 mN, UA3P-5000H: 0.10 to 0.30 mN
Stylus: A diamond stylus with a tip angle of 30 degrees and a radius of 2 µm can be used.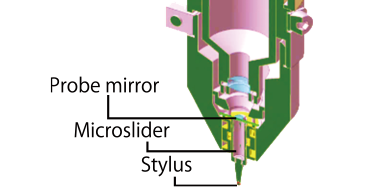 ---
Core software technologies
High-speed and high-accuracy measurement is possible with a simple operation. A variety of design information is supported. Installation errors in the measured object are corrected in three dimensions to enable accurate profile measurement.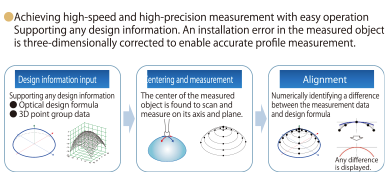 Exhibition and Seminar Information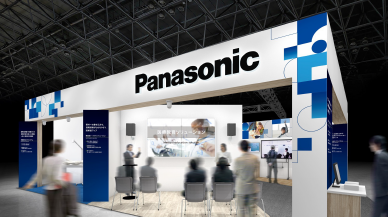 nformation on current seminars and exhibitions is posted here. Information on past seminars and exhibitions is also available.