APX300 is a fully automated batch processing dry etching equipment that can simultaneously process multiple wafers of 6 inches or less and is capable of simultaneous processing of seven ø4" wafers and three ø6" wafers.
Features
High-accuracy and high-uniformity processing is possible using an original ICP plasma source
An original batch ESC electrode is used to pick up individual PCB to realize high-accuracy high-speed etching processing at the single wafer processing level.
Numerous achievements in the processing of compound materials, PCB materials, and insulating films
Housing the device in one box contributes to increased area productivity
(Machine dimensions W 1350 mm x D 2230 mm x H 2000 mm)
Application
Applicable to LT/LN PCB etching of SAW devices and etching process of protective film
High-speed processing of LED thin film contributes to high productivity in the etching process
The PCB surface can be etched into shapes such as trapezoids and cones (PSS processing)
Features and Benefits of "Dry Etcher APX300"
Useful areas of APX300
Businesses utilizing IoT are expected to expand further with the spread of 5G, which will gain momentum in the future.
The number of related information terminal devices is increasing year by year, requiring advancements in high-speed communication, high-speed processing, and sensing functions, which has further increased the demand for advancement in the functions of various key devices.
Especially, there is a growing need for high-accuracy processing performance, compatibility with new materials, and process stability in 5G-related SAW and communication devices that enable high-speed and high-capacity communications, MEMS and sensor devices that enable automatic driving and smart factories, and light emitting devices such as LED and LD used in optical communications and 3D sensing.
In particular, in the processing of PCBs for SAW devices, LEDs and LDs, there is a growing demand for high productivity and improved area productivity for difficult-to-process materials, and high-accuracy and high-speed batch processing is required.
Panasonic offers high-performance and highly stable process solutions using batch processing machine equipped with our original multi-ESC electrodes.
---
Exhibition and Seminar Information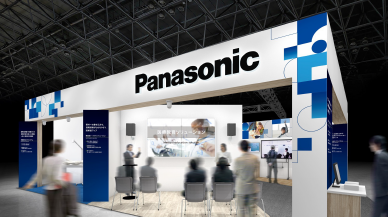 Information on current seminars and exhibitions is compiled and posted here. Information on past seminars and exhibitions is also available.