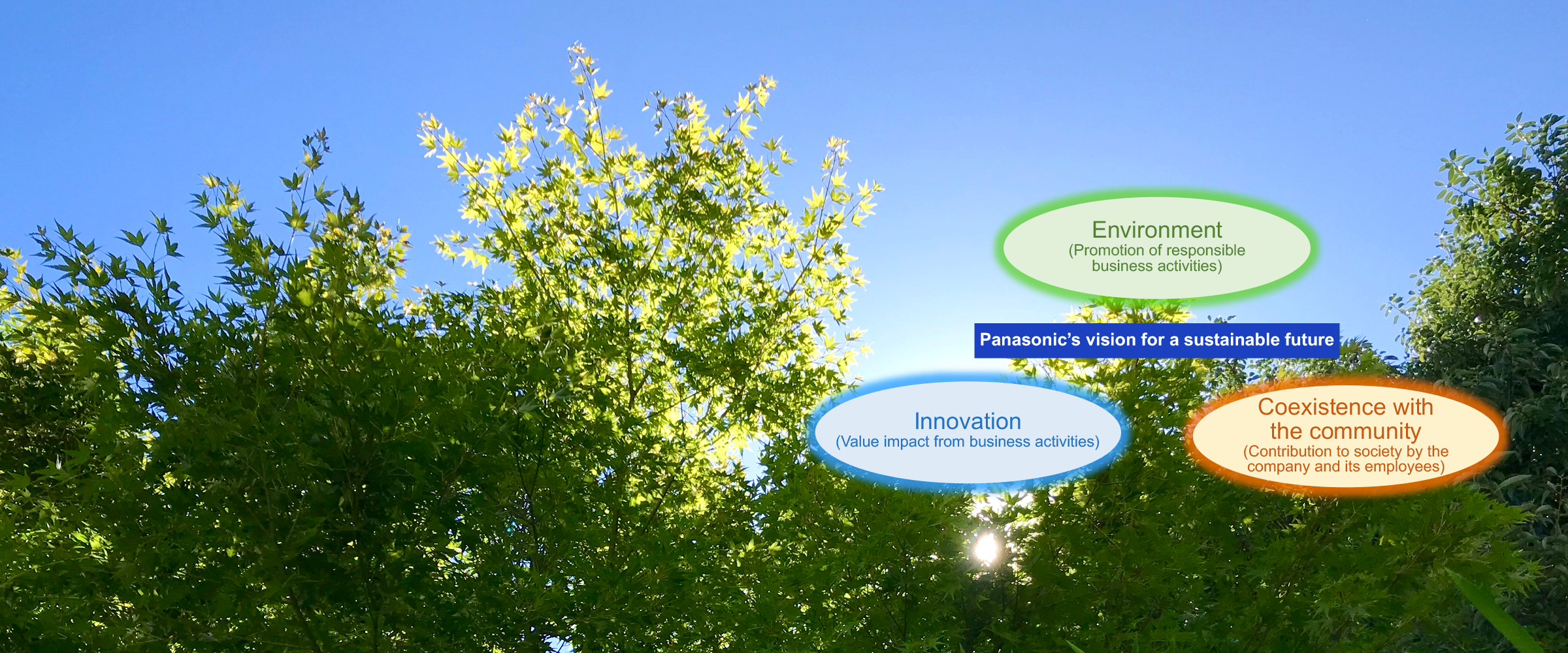 Initiatives for Mounting Machines under Panasonic Green Impact
Feature Stories About Our Technology
In 2017, Panasonic formulated "Panasonic Environment Vision 2050" to define the vision that Panasonic aims to achieve in order to meet the expectations and demands of our stakeholders. Since April 2022, we have been further evolving this concept, and will report the results to our customers and society under the name "Panasonic GREEN IMPACT" by reducing CO2 emissions from our own business operations and contributing to the reduction of CO2 emissions for society. By thoroughly reducing energy usage and expanding the creation and utilization of clean energy, Panasonic is expanding "GREEN IMPACT" and working together with our customers and society with the aim of achieving carbon neutrality.
https://holdings.panasonic/global/corporate/panasonic-green-impact.html
---
Examples of approaches the Process Automation Business Division at Panasonic Connect is taking to mounting machines
In response to this, the electronics assembly industry, which mainly manufactures ICT equipment and automotive control parts, has recently begun to require the publication of CO2 emissions figures not only at the corporate level but also at the product level, also requiring transparency regarding the concept (maturity) of CO2 emissions and specific initiatives.
Panasonic Connect's Process Automation Business Division is working to (1) reduce CO2 emissions from customer product use and (2) reduce energy consumption by customers when using mounting machines. Examples of this will be presented here.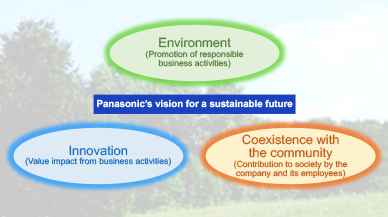 ---
1. Reduction of CO2 emissions from customer product use
---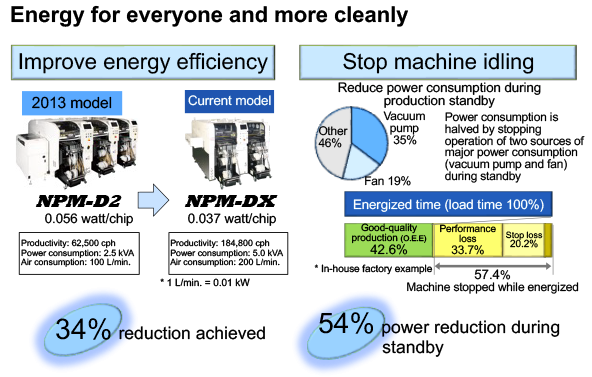 Energy for everyone and more cleanly
First of all, we are working to reduce CO2 emissions from customer product use. By improving energy efficiency compared to 2013 models, our current models of mounting machines have achieved a 34% reduction in power consumption.
Furthermore, we are currently working to stop idling of vacuum pumps and fan motors to reduce power consumption during production standby. We will continue to promote energy reduction both during operation and standby.
---
2. Reduction of energy used by customers
---
Next, an example of waste reduction and reduction of work site travel will be presented.
Firstly, here is an example of the reduction in printer material waste.
The automation features can reduce the amount of waste solder by approximately 3,000 kg per year compared to the manual work of operators.
* Estimate based on one customer's factory
・Operating 200 days/year (including night shifts)
・SMT × 16 lines
・2,000 to 2,500 sheets produced/line/day
・Changeover about 13 times/day; solder printing quantity: 3 g/sheet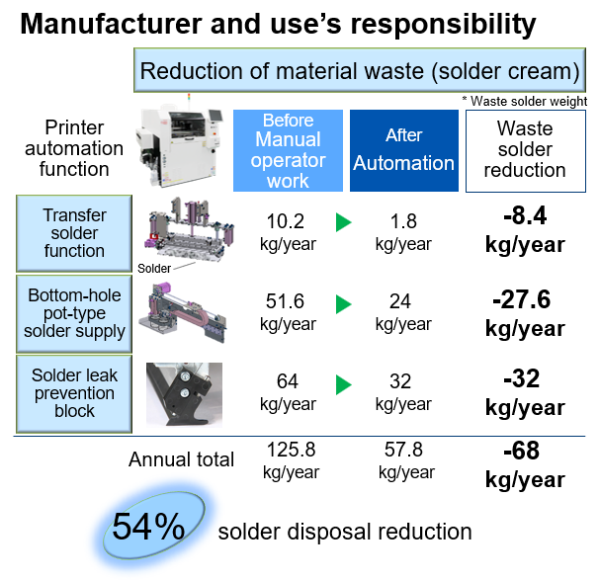 ---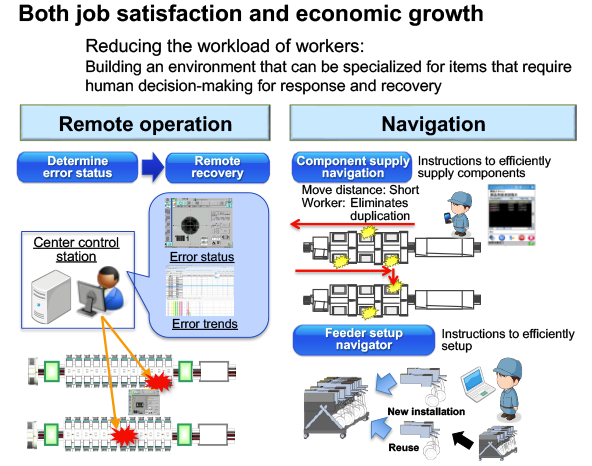 Next, an example of reducing the workload of workers will be presented.
No one knows when a machine error will occur. Currently, when a machine error occurs, the machine communicates the error via a signal tower or buzzer, and the worker alerted by the tower or buzzer moves to the applicable machine to respond to the error.
The remote control feature relieves the operator from this situation and reduces the operator's workload. When an error occurs, a pop-up notification is sent to the computer, and the error can be handled by remote machine operation.
---
Thus, errors can be handled without being on site, and workers no longer need to be constantly on the line to respond to errors that may occur at any time. Additionally, the navigation feature provides efficient instructions for component supply and feeder setup, enabling planned operations.
Similarly, an example of automating sudden error handling will be presented. The machine automatically recovers from sudden errors thanks to automatic pickup position teaching, automatic pitch changeover, and other features. In the future, we will not only respond to sudden errors, but also expand the scope of autonomous control of machines to achieve high-quality manufacturing that does not rely on human operators.